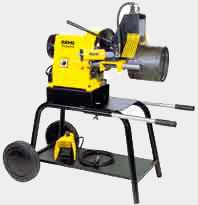 :: REMS Magnum RG ::
Roll grooving machine



Robust, compact high performance machine with roll grooving attachment for grooving pipes of pipe coupling systems. For installation, sprinkler lines, commercial heating, industry and mining. For job site and workshop.

Steel pipes DN 25-200 (300) 1-8" (12"), s up to 7 mm. Stainless steel pipes, copper, aluminium, PVC pipes. Pipe threads 1/16-2", 16-63 mm, Bolt threads 6-60 mm, 1/4-2", with conversion kit.

REMS Magnum RG - the compact up to 12".